Details

Home > NEWS > Company news > Details
The Company's New Series Of Products Have Successfully Obtained "CE" Certification
Published:2021-12-08
Author:
Sources:
Views:168
The Company's New Series Of Products Have Successfully Obtained "CE" Certification
At the end of November 2021, with the joint efforts of all employees, Rich packing machinery successfully passed the audit of the company's new series of five products, and officially obtained the CE certificate of the new series of products in electronic granulator, aluminum-plastic blister machine, cartoning machine, rotary tablet press and capsule filling machine, which is good news for all employees of Rich packing!
"CE" mark is a safety certification mark and a passport recognized by the manufacturer in the European market. It stands for European unification. Products with "CE" mark can be sold in EU member states without meeting the requirements of each member state, so as to realize the free circulation of goods within EU Member States (CE mark is a safety conformity mark). For example, one of the dph-260h products of aluminum-plastic blister machine with CE certificate in the company's new product series is a product specially designed to meet the user's high requirements for output and speed. In addition to meeting the user's output requirements, the product has the advantages of low energy consumption, high precision, high quality and stable operation, Therefore, it is one of the ideal products for large-scale production enterprises and powerful factories.
The company's obtaining the CE certificate of the new series of five categories of products is undoubtedly another milestone in the development of Rich packing. I believe that while Rich packing machinery obtains the new product certificate, it will make users rest assured and satisfied in the process of strictly implementing quality management. Rich packing packaging machinery will continue to forge ahead and achieve better results!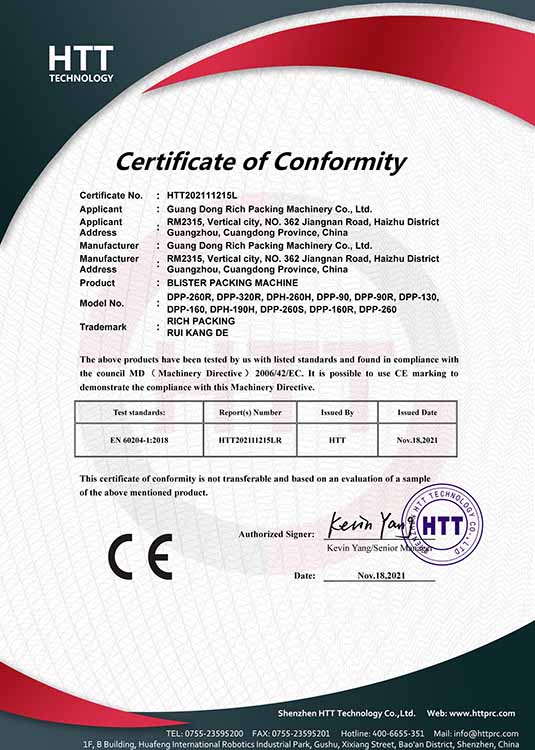 Tags: