Details

Home > SOLUTION > Solution of Model Choosing > Details
Semi-automatic capsule filling machine
Published:2015-12-21
Author:
Sources:
Views:2327
‍DTJ-C Semi-automatic Capsule Filling Machine‍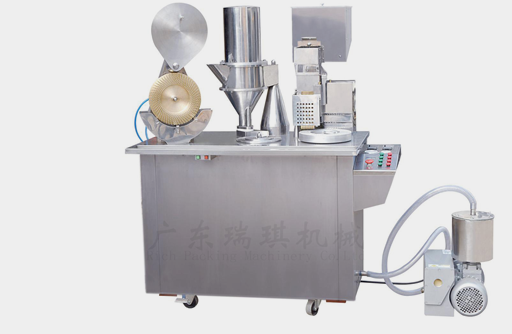 ‍Introduction‍
This machine is suitable for filling various types of capsules, It is an ideal equipment with smartness accuracy for dosage,novel structure,good-looking,ease of operation,for filling capsule medicine in pharmaceutical industry.
‍Main Features‍
1.Joint electricity and gas control, It can automatically finish the action of location,separation,filling, locking etc for capsule.
2.The speed of machine is controlled by the knob of control board, and with the meter display speed.
3.Equipped with a vacuum pump.
‍Main Technical Parameters‍
| | |
| --- | --- |
| Model | DTJ-C |
| Max output | 12500pcs/h |
| Filling type | 00#0#1#2#3#4# hard capsule |
| Power | 2.2kW |
| Power Supply | 380V/50Hz |
| Dimensions | 1350*700*1600mm |
| Weight | 400kg |
| | | | | | |
| --- | --- | --- | --- | --- | --- |
| NO. | Item | Specification | Manufacture | Voltage | Quantity |
| 1 | Pneumaticcomponents | Model AC-200 | Hualong | | 2 |
| 2 | Bearing | Various specification | Harbin | | Whole set |
| 3 | Reducer | WPW-40 Model | Hanzhou Yunshen Reducer Co.,Ltd | | 2 |
| 4 | Motor | YS6324。7124 | Zhejiang Linhai Chunhua Motor CO.,LID | | 3 |
| 5 | Vacuum Pump | XD-40 | Shanghai Pujiang Industrial Company | | 1 |
| 6 | Stainless steel | 304 | China | | Each piece |
| 7 | Frequency converter | N2 | Taian-Taiwan | 2-220V | 2 |
| 8 | Counter | SYJ-48A1 | Chaoke-Zhejiang Ruian | AC-36V | 2 |
| 9 | Thermal relay | NR2-25 | Zhengtai | | 1 |
| 10 | Button | LAS1-BY-11M | Hongbo-Zhejiang | | 8 |
| 11 | AC contactor | LC-1-D09/10 | Shanghai Schneider | AC-36V | 3 |
| 12 | Transformer | BK-100 | Zhejiang Erbian | Input220V Output 36V | 1 |
| 13 | Time relay | AH-3-3 | CKC-Song Ling Motor | AC-36V | 1 |
| 14 | Small relay | HH54P | ZHEJIANG LIERD RELAYS ENTERPRISE CO., LTD | AC-36V | 2 |
| 15 | Miniature Circuit Breaker | DZ47-25/3P | Zhengtai | | 1 |
| 16 | Miniature Circuit Breaker | DZ47-10/1P | Zhengtai | | 1 |
| 17 | Proximity switch | GL-8F | Omron | DC0-36V | 1 |
| 18 | Stop switch | Y090-11M | Zhejiang | | 1 |
| 19 | | AZ-7311 | Zhejiang | | 1 |
| 20 | Proximity switch | ANJK-5002C | Zhejiang | DC0-36V | 1 |
DOWNLOADS
Specification Form for Capsule Filling Machine Purchase.xls
Tags: